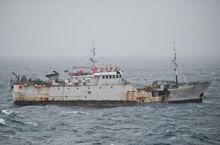 Kunlun is a fishing boat wanted by Interpol and is a member of The Bandit 6.
Operation Icefish
Edit
On Febuary 2, 2015 Sam Simon encounted Kunlun and ordered them to surrender. that same day the New Zealand Navy boarded the vessel and they lied about their catch. Sea Shepherd and the Royal New Zealand Navy tailed Kunlun and ordered them to surrender. Kunlun fled into Australian waters and was boarded by the Ocean Shield who then ordered the vessel to Thailand to surrender to the police.
Arrest and Escape
Edit
On March 17, 2015 Kunlun surrendered to the police in Phuket Thailand and was arrested the ship remained here in Phuket until the September 2015 prison break. On September 20, 2015 the crew of Kunlun escaped from jail and hyjacked their own boat and a few days later met up with Viking who just escaped from Malaysia. these vessels are now headed to Antartica to poach once again. Sea Shepherd has dispatched the Steve Irwin to stop them.
Arrest in Senegal
Edit
On Febuary 9, 2015 Kunlun was arrested in Dacker Senegal for using a false name which was blacklisted by Senegal last time they docked here and the false flag of Indonesia as it's port of call. Senegal seized the lllegal catch and impounded the vessel with most of the crew taken by Interpol officers to local jails. With Kunlun out of service Viking is the only one left of the Bandit 6 and Sea Shepherd turns their attention to catching her.