The MY Farley Mowat is a retired Island Class Coast Guard Cutter replacing the Sea Shepherd ship of the same name (see RV Farley Mowat).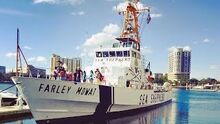 In January 2015 Sea Shepherd bought two Coast Guard vessels in Key West Florida from the Coast Guard former names USCG Pea Island and USCG Block Island. Sea Shepherd took the two recently decommissioned vessels to Key West and they became the Farley Mowat and the MY John Paul DeJoria. After painting and detailing of the vessels both were deployed to the Gulf of Mexico and to the Sea of Cortez. The First campaign was Operation Milargo 3 where it assisted the RV Martin Sheen, and the Sam Simon to hunt down and arrest Mexican fisherman who are poaching illegally and using driftnets to kill the vaquia porpoise which is an extremely endangered dolphin.
Operation Milargo 3
Edit
Fresh out of the paint shop in Key West the Farley Mowat was given her first orders. As part of her maiden voyage she took part in the joint campaigns Operation Toxic Gulf and Operation Milargo 3. The goal of these two campaigns is to document pollution in the Gulf of Mexico released by The Deepwater Horizon Oil Spill and to save the vaquia porpoise from extinction caused by Mexican fisherman who are deploying driftnets into the Sea of Cortez. To date the Farley Mowat has made 97 arrest and has captured close to 75 fishing boats using their driftnets. Because of the success of the campaign the Mexican cartels are taking notice too and have issued death threats to the three vessels taking part in the campaign. Admiral Paul Watson states that Sea Shepherd takes death threats seriously but that does not deter them from their campaign or protection of the worlds wildlife. Sea Shepherd has since called the Mexican Police on land and they are currently looking for the Mexican drug cartels who have issued threats to Sea Shepherd the case is ongoing. After a successful campaign the Farley Mowat docked in San Diego and the ship was repaired. Currently the vessel is in Mexico undergoing repairs in drydock to get ready for Milargo 4.
Ad blocker interference detected!
Wikia is a free-to-use site that makes money from advertising. We have a modified experience for viewers using ad blockers

Wikia is not accessible if you've made further modifications. Remove the custom ad blocker rule(s) and the page will load as expected.