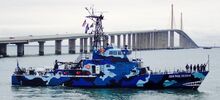 The MY John Paul DeJoria is a former Island Class security vessel operated by Sea Shepherd. It's former name was the USCG Pea Island. Originally the vessel was called Jules Verne but Sea Shepherd was forced to change it after they got into a lawsuit with the copyright holder. It's first mission was to look for a drowning man off the Florida Keys. The John Paul DeJoria is currently in route to the Cayman Islands as part of Operation Treasured Islands a new campaign whose goal is to stop shark poachers in and around Galapagos.
Hurricane Relief
Edit
After Hurricane Harvey and Irma destroyed Key West Paul Watson ordered the vessel out of port to do what it did in its previous life which is to save lives. Currently the John Paul DeJoria is in the Gulf of Mexico delivering supplies to hurricane victims and getting ready for their next campaigns.
Ad blocker interference detected!
Wikia is a free-to-use site that makes money from advertising. We have a modified experience for viewers using ad blockers

Wikia is not accessible if you've made further modifications. Remove the custom ad blocker rule(s) and the page will load as expected.