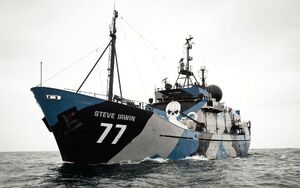 The MY Steve Irwin (formerly Robert Hunter) is the current flagship of the Sea Shepherd Conservation Society. Originally named the Robert Hunter, the ship was acquired 2006 and participated in Operation Leviathan. In 2007, the ship was renamed Steve Irwin after the late Crocodile Hunter.
The Steve Irwin is an Island-class patrol vessel, originally built for the Scottish Fisheries Protection Agency as the Westra. It was sold to Sea Shepherd in 2006 and renamed the Robert Hunter after the Greenpeace founder and friend of Captain Paul Watson.
Operation Leviathan
Edit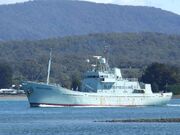 The Robert Hunter joined the Farley Mowat in Operation Leviathan, where it pursued the Japanese whaling fleet. The Robert Hunter encountered the whaling spotter ship Kaiko Maru and deployed an inflatable boat to engage it. The small boat crew successfully prop-fouled the Kaiko Maru but the whaling ship collided with the side of the Robert Hunter and declared a mayday. The Farley Mowat and Greenpeace's Esperanza both arrived on scene shortly after. The Esperanza refused to make contact with the Robert Hunter, so Emily Hunter, the daughter of Robert Hunter, radioed the Greenpeace crew, telling them that they are proud to have named their ship after the Greenpeace founder, and that the Greenpeace crew now were just a sham.
Operation Migaloo
Edit
In 2007, the ship was painted solid black and renamed Steve Irwin after the famous Crocodile Hunter who had passed away. Steve Irwin had expressed interest in joining the crew, and his wife approved of the renaming. After Sea Shepherd lost possession of the Farley Mowat, the Steve Irwin became the new flagship, and the only ship of the fleet for a period of time. The Steve Irwin sailed alone in Operation Migaloo in 2007-08. It also carried a film crew for the first season of Whale Wars. On January 15, 2008, Steve Irwin crew members Benjamin Potts and Giles Lane, boarded the Yushin Maru No. 2 via inflatable boats. The two were detained for two days until the Australian customs vessel Oceanic Viking retrieve them and transported them back to the Steve Irwin. Shortly after, the Steve Irwin encountered a Japanese ship, the Fukiyoshi Maru No. 68. The Delta boat and helicopter launched a mission to identify any Japanese military personnel onboard, but did not spot any. Convinced that the ship was a spy for the whaling fleet, the crew attempted to launch a night assault of the Fukiyoshi Maru No. 68 and board the ship to sabotage their communications. However, the crane onboard the Steve Irwin was damaged and the mission was aborted. In March, 2008, the Steve Irwin encountered the factory ship Nisshin Maru and proceeded to engage it, with crew throwing butyric acid and slippery powder onto the deck of the ship. The whalers retaliated with flashbang grenades. Sometime during the engagement, Paul Watson claimed to be hit by a bullet, but saved by his bullet proof vest. This claim has been disputed by the whalers.