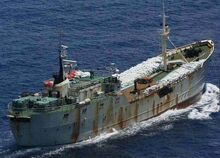 Perlon is a longliner wanted by Interpol for poaching and fisheries violations. She is also a member of
The Bandit 6
.
Operation Icefish
Edit
Perlon has managed escape capture by law enforcement during its 60-year career. In April 2015 Perlon was boarded by the Australian Coast Guard off the coast of the Cocos Islands and was escorted out of Australian Waters. A week later Perlon pulled into the port of Tanjung Penyusup and rendezvoused with a tugboat and a barge with a clamshell crane to offload its illegal catch. The Malaysian Coast Guard arrived a few minutes later and arrested Perlon on the spot and it is now detained in the port of Tanjung Penyusup awaiting sale and eventual scrapping.
Ad blocker interference detected!
Wikia is a free-to-use site that makes money from advertising. We have a modified experience for viewers using ad blockers

Wikia is not accessible if you've made further modifications. Remove the custom ad blocker rule(s) and the page will load as expected.