The Martin Sheen is a sailboat operated by Sea Shepherd. Although Sea Shepherd despises the word research used on the side of a whaling ship Martin Sheen is the only true research vessel in Neptune's Navy its first campaign was Operation Toxic Gulf in 2014 following the Deepwater Horizon Oil Spill. Martin Sheen goes around the world researching spills, pollution, driftnetting, population, habitat, and ecosystems. Currently the vessel is deployed in Costa Rica patrolling Galapagos along side the John Paul DeJoria.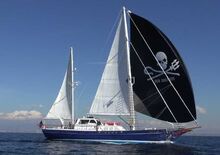 Ad blocker interference detected!
Wikia is a free-to-use site that makes money from advertising. We have a modified experience for viewers using ad blockers

Wikia is not accessible if you've made further modifications. Remove the custom ad blocker rule(s) and the page will load as expected.