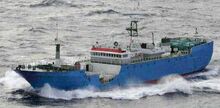 Viking was an illegal fishing vessel wanted by Interpol and a member of The Bandit 6. She was sunk by the Indonesian Navy and Sea Shepherd for fishing violations.
Operation Icefish
Edit
The goal of Operation Icefish is to create an international incident and shutdown these boats who have been coming to Antarctica to poach since the 1960s. For most of Operation Icefish Viking stayed off the radar and did not attempt to confront Sea Shepherd. Upon word that the rest of the fleet was arrested she headed to Malaysia and got arrested by the coast guard.
In October of 2015 Viking escaped from prison after bribing the authorities and went on the run. Her prison break was short lived she ran into the Steve Irwin and was chased to Indonesia.
Arrest and Sinking
Edit
On February 26, 2016 Sea Shepherd spotted Viking entering Indonesian waters in violation of a fisheries ban on these type of vessels. Viking pulled into the port of Java and was arrested by the coast guard. During the investigation millions of tons of illegally caught toothfish were on board along with a fake Indonesian Flag and false papers. The minister of fisheries Susi Pudjiastuti delivered her verdict at Viking's trial sentencing the vessel to death by sinking. On the morning of March 14, 2016 Viking was loaded with explosives and sunk along with it's illegal catch. With Operation Icefish over Sea Shepherd has cleaned the waters of Antarctica of these vessels and the Bandit 6 will never again prey on the lives of toothfish in the Southern Ocean.

Dramatic Drone Footage of the Sinking of the Viking